Eyelash Transplant: Before & After Photos (II)
For some patients, the overuse of eyelash extensions can cause permanent eyelash loss.   It is assumed that this lash-loss is a result of a form of 'traction alopecia'–similar to the damage to scalp follicles from tight braiding, hair extensions or chronic hair-pulling.     Dr. Bauman recommends gentle removal of eyelash extensions to prevent damage to your eyelashes.    Should eyelash damage occur, it might be temporary.   After six to twelve months, eyelash growth should 'rebound' somewhat if the damage is not severe.  If the eyelash damage is permanent, eyelash transplantation can be used to replace lost lashes.   For more information on the eyelash transplant procedure, click here.    Eyelash transplantation can also be used to enhance short, thin, spare or otherwise 'weak' lashes.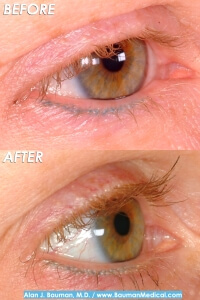 One of the main criticisms of eyelash transplantation procedures of 'years ago' was that there was poor control over the orientation, direction, curl and position of the implanted lash follicles.   Dr. Bauman's refined approach, as demonstrated at the First Regional Live Surgery Workshop on Eyelash Transplantation, allows precise control over these factors.    In Sharon's photo to the left, (with no mascara), you can see the exact position and curl of the implanted lashes.    Notice the increase in densityprecisely at the lash margin as well as the appropriate curl of the transplanted lashes in the 'After' photo.  Click on the photo for a higher-resolution version.

Eyelash Transplant Before & After Photos
Cosmetic Eyelash Transplant by Dr. Alan Bauman
Before & After 12 months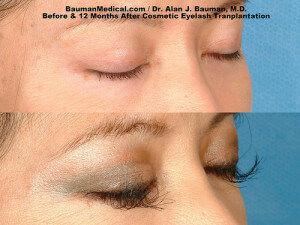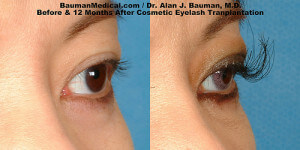 Patient: Maryanne P.
EYELASH TRANSPLANTATION (before and after)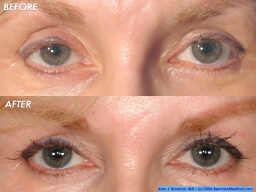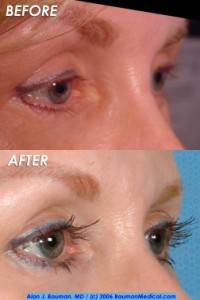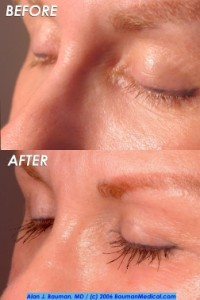 Photos taken before and 12 months after eyelash transplantation by Dr. Alan J. Bauman of the Bauman Medical Group.   Approximately 20 lashes were implanted in each upper lid.  Click on photos for larger images.  Note: Transplanted lashes need to be trimmed (and curled) routinely.
Eyelash Transplant Photos (III)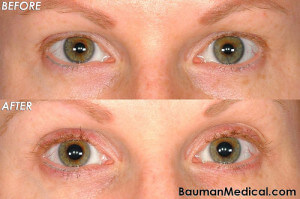 Before and twelve months after eyelash transplantation of the upper lids.  Dr. Bauman transplanted thirty lashes per upper lid.    Click on the photo to see other eyelash transplant photos at Dr. Bauman's flickr account.
The Bauman "Eyelash-Manicure"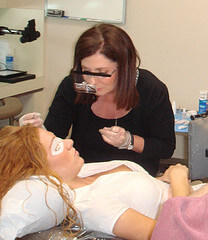 After eyelash transplantation, many patients want to have an 'eyelash manicure' which includes trimming, tinting and perming of the transplanted lashes. We offer these services by appointment at Bauman Medical Group. This is a photo of Erica Lynn (professional model and eyelash transplant recipient) receiving an eyelash-manicure.Erica Lynn's eyelash transplant procedure by Dr. Bauman was featured on Good Morning America and Extra!. Her eyelash-manicure was seen on NBC's Today Show.